Songs & Scenes From
The Award-Winning Musical,
With Connie Kunkle, Featured Vocalist with the Orlando Symphony,
Who starred as Fantine in "Les Miserables" on Broadway,
And Stephen Len White, from the European Tour of "Phantom of the Opera,"
Along with a talented, sizzling cast of 9,
Including Composer/Author Jeremiah Ginsberg as Mendel Moskowitz!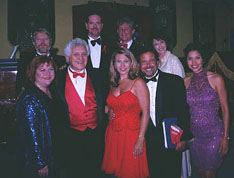 From left, first row: Carol Hurley (Los Angeles), Jeremiah Ginsberg (Ft. Lauderdale), Connie Kunkle, Mark Ferrera (Orlando), Susanna Velasquez (Los Angeles); Second Row from left: Denny Hollowell (Porstmouth, VA), Stephen Len White (Memphis, TN), George Comtois (Orlando), Linda Siers (Ft. Lauderdale).
Since May 2000, Jeremiah & Wendy Ginsberg have presented "The Mendel & Moses Showcase" at various venues. From Orlando to Fort Lauderdale to New York, audiences have been delighted by this outstanding presentation of the story of Moses and God's eternal promises to His chosen people.
Why is "Mendel & Moses" significant? Prophetic events are happening with amazing speed. When a Middle East Peace Accord is confirmed, and all eyes are focused on Jerusalem, "The Zion Age," a new move of the Holy Spirit toward Israel, will begin. The time to favor Zion has come!
And what does God require of His chosen people?
"Remember the law of Moses, My servant! (Malachi 4:4)
"Mendel & Moses" will help fulfill the Malachi command in these last days before the return of Messiah Yeshua.
"Charming! Full of Wit & Wisdom!" -
The Hollywood Reporter
"Entertaining & Edifying! With its heart in the heavens!" -
Drama-Logue
You are invited to become an Official Sponsor of the musical. Your tax-deductible donation into Jeremiah Ministries will help bring "Mendel & Moses" to the Jewish people! Sponsors' names, or the names of those they wish to honor, will be printed in the Program at every performance. For more info, click on Messianic Performing Arts Center.

Our same outstanding cast has also been performing a concert version of "Mendel's Messiah," our award-winning musical formerly entitled, "Rabboni!" You can hear selections of music from "Mendel's Messiah!" Recorded live on December 16, 2000 in New York!
In Part 1, Mendel Moskowitz from Brooklyn goes back in time to Ancient Egypt and becomes a Hebrew slave. In Part 2, Mendel goes back to Ancient Israel and becomes one of the Jewish disciples of Yeshua. By the end of the show, Mendel finally realizes that Yeshua really is the promised Messiah. In Part 3, "The Time o Mendel's Trouble," Mendel receives the mantle of Moses and becomes one of the two witnesses from the Book of Revelation.
These outstanding musicals must be in production!
Any interested "Angels," Sponsors or Investors,
please call Jeremiah to discuss your participation.
If your Congregation would like to host
showcases of these anointed musical theater outreaches,
call Jeremiah or Wendy at (954) 722-1719 for info.
Thank you, and God bless you for blessing Zion!

Home | Mendel & Moses | Appearances | Prophecy Book | Invest | Sponsor | Donate |
Messianic Zionist Congress | Jeremiah Ginsberg | Rabboni | M&M Poster NY |
Lawsuit | Mendel's Messiah Poster NY | Order Form | Music! | Messianic Performing Arts Center |