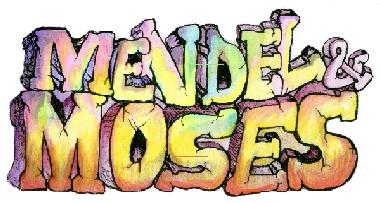 An Epic Musical Sensation!
Music & Lyrics by Jeremiah Ginsberg
Book by Jeremiah & Wendy Ginsberg
In the Spring and Summer of 1997, Jeremiah & Wendy Ginsberg produced "Mendel & Moses" at the Century City Playhouse in West Los Angeles, and at The Canon Theatre in Beverly Hills. It received excellent reviews, and was seen and enjoyed by no less than 7,000 theatre-goers. A sampling of the reviews: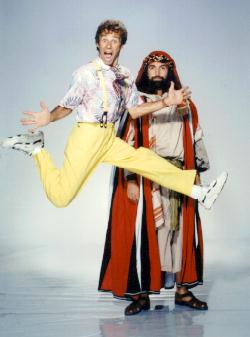 "Excellent music! With its feet on the ground, its heart in the heavens, and that irrepressible twinkle in its eye, Mendel & Moses is on the side of the angels and good for what ails a sickened society! Critic's Choice!" - Polly Warfield, Drama-Logue
"Charming and full of wit and wisdom! The writers Ginsberg have fashioned a fable that is full of humor, drama, satire, song and dance. A bit of something for everyone! A show worth seeing!" - Ed Kaufman, The Hollywood Reporter
"Mendel brings humor and high spirits to the story! Rousing laughs along the way!" Don Shirley, The Los Angeles Times
Gary Morgan as "Mendel" and Jesse Garnee as "Moses"
(Photo by Harry Langdon, Beverly Hills, CA)
Now Available! New Video of "Mendel & Moses - In Concert!"
Recorded live at the MJAA Conference on July 7, 2006! Click Here!
Home | M&M Showcase | Rabboni | Kess Malkhoot Dahveed | New Mendel & Moses Video |
Order Form |Appearances | Prophecy Book | Music | Donate |