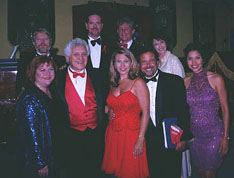 Our talented Showcase cast!
First row from left: Carol Hurley, Jeremiah Ginsberg, Connie Kunkle, Mark Ferrera & Susanna Velasquez.
Second row from left: Denny Hollowell, Stephen Len White, George Comtois & Linda Siers.
The Songs from "Mendel's Messiah"
(Produced off-Broadway in 1985 as "Rabboni")
Music & Lyrics by Jeremiah Ginsberg
A Showcase Version of "Mendel's Messiah" (also known as "Rabboni") was performed on December 16, 2000 in Freeport, NY.
Instructions: To hear a selection, click on the title; a new page will come up with the Real Audio file; click on the title of the song, Real Player will pop up; after several seconds, the song will automatically play through once. When finished listening to the selection, click the "Back" button on your browser to return to this page.