The Award-Winning Musical,
"Rabboni"
(Also Entitled, "Mendel's Messiah")
Music & Lyrics by Jeremiah Ginsberg
Book by Jeremiah Ginsberg & Wendy Ginsberg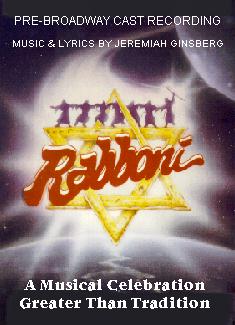 "Rabboni" is an original Messianic Gospel musical that dramatizes the life of Yeshua in a thoroughly Jewish and entertaining way. In the show, the humorous Jewish Narrator, Mendel Moskowitz from Brooklyn, is transported back to ancient Israel where he meets Yeshua and the disciples, as well as the buffoonish egomaniac, Beelzebub. The story follows the Biblical account of Yeshua's life, showing the miracles, the crucifixion, and the resurrection. For Mendel, it's a life-changing, sometimes wacky journey to discovering the truth that Yeshua really is the Messiah.
In 1981, Jeremiah produced "Rabboni" in California and won a Bronze Halo Award from The Southern California Motion Picture Council for "Excellence in Family Entertainment."
Then he brought the show to New York City and produced it off-Broadway during the entire summer of 1985 to much acclaim in both the secular and Christian press.
"A thoroughly entertaining musical, a neat little package of exhilarating song and dance... an up-tempo, captivating success." -- The Jewish Telegraphic Agency
"The 700 Club" did a feature story (see highlights on our YouTube Channel) on "Rabboni," interviewing Jeremiah and showing portions of the off-Broadway production. In 1990, two songs from the show were featured at the ICEJ's Feast of Tabernacles in Jerusalem.
Some Comments/Reviews:
"Ebullient joy!" - Richard F. Shepard, The New York Times
"Fabulous production! Bravo to Mr. Ginsberg, a remarkable talent! See it and you will cheer!" - Florence Stevenson, Park East News
"An Up-Tempo Captivating Success!" - The Jewish Telegraphic Agency
"Exhilarating musical celebration! An intelligent and sensitive expression of culture! An articulate representation of dramatic music!" - Rose Golden, The Messianic Times
"Better than Fiddler on the Roof!" - Gary Selman, of "The Two Nice Jewish Boys" Radio Show on WWDJ in New York City
"The greatest portrayal of the Gospel ever to come out of the creativity of man!" - Rabbi Jerry Feldman, Congregation Adat Yeshua
"Great dramatic musical! My husband and I invested in its production and we feel that many Christians need to consider doing the same!" - Gwen R. Shaw, President & Founder, End-Time Handmaidens
"Jeremiah Ginsberg [is] a faithful servant of the Lord with a special gifting and anointing! Magnificent musical!" - Pearl McLane, President, Dove of Life Ministries
"I want you to know that I still remember the colorful presentation of 'Rabboni' off-Broadway. You had invited Howard and me to attend. I was a new Christian then and didn't understand completely, but it was a night to remember! Sincerely, Virginia B., August 22, 2014. PS: Thank you!"
View highlights from "Rabboni" including The 700 Club feature story on our YouTube Channel at http://youtu.be/PAtuRBdgzpM?list=UUzLcO4dp8marC1krArtwurQ
Click here to listen to "I Found A Bright Shining Morning Star" from the "Rabboni" Cast Recording.
---
Jeremiah produced a Cast Recording of the musical "Rabboni" featuring Marty Goetz, renowned Messianic recording artist, performing the lead role of Yeshua with the New York City cast.
The music critic for "The Messianic Times," Rose Golden, reviewed the Cast Recording in the Summer 1993 issue, and said,
"Jeremiah Ginsberg's Cast Recording of Rabboni is an articulate representation of dramatic music and Messianic Judaism... It is also an intelligent and sensitive expression of culture.
"Jew and Gentile, Believer and non-Believer alike will find these tapes and its accompanying booklet a fascinating excursion into the Jewish search for Messiah and the cold-blooded war Satan has waged against man and God.
"The beautiful melodies and counter-melodies are remarkably energetic and clever. Lullabies and ballads are skillfully positioned between operatic and upbeat modern musical tunes. Hasidic Jewish rhythm and sound reverberate through the entire collection.
"Rabboni is also an astounding tapestry of diverse vocal textures and styles. Marty Goetz, with his cantorial and gentle portrayal of the Master, is juxtapositioned in O Jerusalem, Jerusalem beside Christopher Regan's frolicking and raucous rendition of Beelzebub in The Last Days of Rome. Yeshua Messiah is sung by Tim McKanic... as you listen, you can almost hear the Jewish heart beating alongside the heart of God.
"The scope and delivery of this exhilarating musical celebration make it well worth buying."
---
The "Rabboni" Cast Recording can be downloaded from CD Baby at http://www.cdbaby.com/cd/rabbonicastrecording.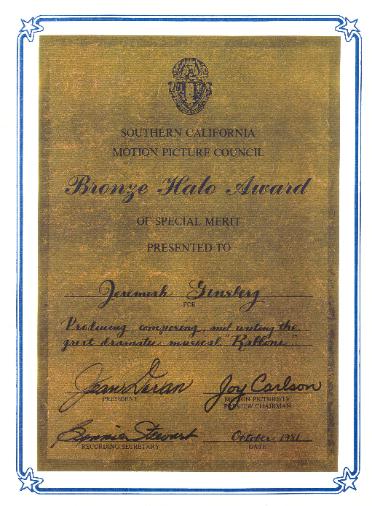 A Bronze Halo Award
Of Special Merit Awarded to
Jeremiah Ginsberg
For Producing, Composing, and Writing
The Great Dramatic Musical,
"Rabboni!"
Click here for selections of the songs from the musical recorded live in New York on Dec. 16, 2000!
HOME | PROPHECY BOOK | "MENDEL & MOSES" | ORDER FORM | YOUTUBE | MENDEL'S MESSIAH |
KESS MALKHOOT DAHVEED | NEWSLETTER | APPEARANCES | JEREMIAH GINSBERG | MUSIC! |
CHAPTER 11-ISLAM EXPOSED | DONATE |