The Epic Biblical Musical!
First Time in New York!
Two Performances Only!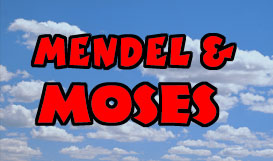 by Jeremiah Ginsberg
Songs & Scenes From
The Award-Winning Musical!
Same outstanding cast!
With Special Guest Appearance by our friend,
Gary Selman, of the "2 Nice Jewish Boys" Radio Show
on WWDJ in New York! Don't miss this event!
Mendel Moskowitz from Brooklyn goes back to Ancient Egypt as a Hebrew Slave! The Exodus was never funnier!
Previously produced in Los Angeles to rave reviews!
"Rousing Laughs!" - The Los Angeles Times
"A Fun Upbeat Musical!" - Back Stage West
"Charming! Full of Wit & Wisdom!" - Hollywood Reporter
"Best Choreography Award!" - Drama-Logue
Friday Night, Dec. 15 at 8:00 PM
&
Saturday Afternoon, Dec. 16 at 3:00 PM
Word of Life Ministries
80 W. Merrick Road
Freeport, NY
Get Your Tickets Early! $10 - $15 - $20
For info, call Word of Life at (516) 546-3344
"Remember the Law of Moses my Servant!"
(Malachi 4:4)
Home | Mendel & Moses | Rabboni | Invest
Jeremiah Ginsberg | Showcase | Prophecy Book
Mendel's Messiah Poster