Macy's Shop For A Cause!
Special One Day Event at Macy's
for Friends of Jeremiah Ministries!
For a $5 donation to Jeremiah Ministries,
you can receive a Shopping Pass like the one pictured below!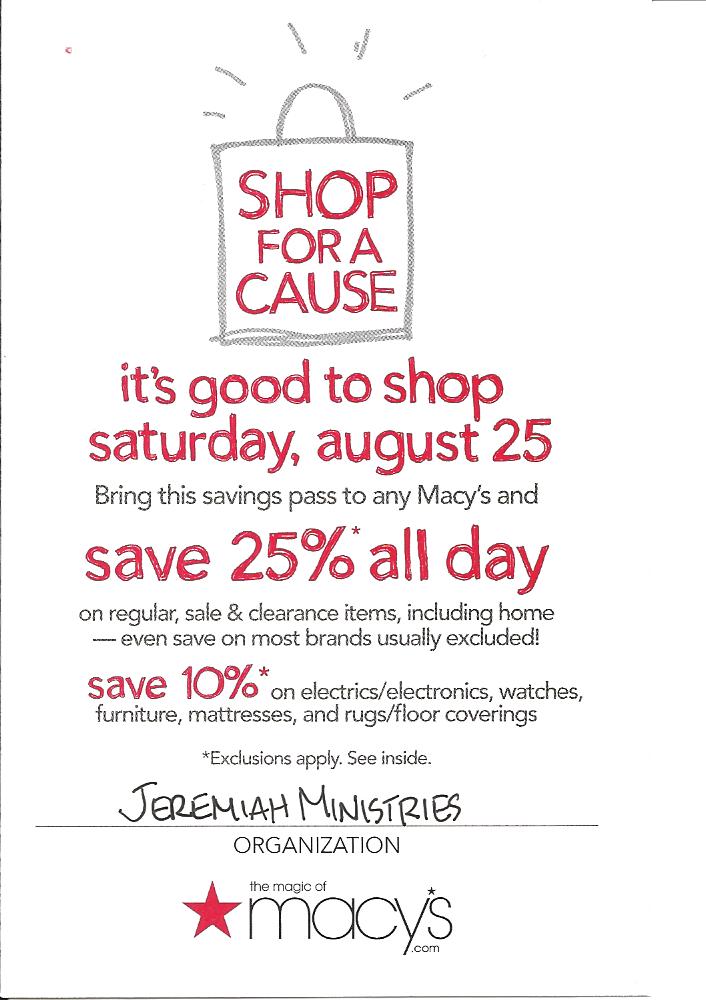 Use the Shopping Pass all day on Saturday, August 29, 2015
for 25% discount at all Macy's and online at macys.com!
To purchase your Shopping Pass,
Scroll down and use the secure PayPal Button!
Get one for yourself and more for your friends!
Special Deal!
Get 25% off your purchases* all day at any Macy's on August 29, 2015!
Scroll down to the bottom for your own Shopping Pass!
Every year, Macy's sets aside a special day called "Shop For A Cause." Since 2006, the Shop For A Cause Event has partnered with nonprofit organizations nationwide to raise more than $38 million for their ongoing charitable efforts. Jeremiah Ministries applied and was accepted to participate in this monumental event which will take place on Saturday, August 29, 2015.
For a donation of $5 to Jeremiah Ministries, we will send you a Shopping Pass* coupon like the one pictured above entitling you to a 25% discount (10% off electrics/electronics, furniture, mattresses and rugs/floor coverings) off your purchases at any Macy's and online at the Macy's website on their specially designated shopping day, Shop For A Cause on August 29, 2015.
Jeremiah Ministries keeps 100% of the proceeds from each $5 donation. Plus, you can enter to win a $500 Macy's Gift Card!
This is a great way to support our nonprofit organization and get a huge 25% discount* on every thing you purchase at Macy's on one day only, Saturday, August 29, 2015. Your Shopping Pass can be used over and over all day on August 29th.
Get your 25% off Shopping Pass today! Buy one for yourself and one for a friend!
Mail your donation payable to Jeremiah Ministries to PO Box 770835, Coral Springs, FL 33077-0835. Or you may donate securely online by using the PayPal Buy Now button below. You may choose up to 5 Shopping Passes using the Buy Now Button, more if you like! Be sure to include your mailing address so that we can send you the Shopping Pass!
Donations to Jeremiah Ministries, a 501(c)(3) nonprofit corporation, are fully tax-deductible.
25% Off Shopping Pass:
*SHOP FOR A CAUSE discount applies to sale, clearance and regular prices, with exceptions listed. EXTRA 10% off applies to electrics, electronics, furniture, mattresses and rugs, floor coverings. EXCLUDES: Super buys, Specials, Everyday Value (EDV), cosmetics, fragrances, TAG Heuer, Tempur-pedic, products offered by vendors who operate leased departments in any of our stores, including Maternity, eSpot, Louis Vuitton. Not valid on previous purchases, special orders, services, gift cards, gift wrap, jewelry trunk shows, payment on credit accounts, restaurants, gourmet foods, wine. Cannot be combined with any savings pass/coupon, extra discount or credit offer, except opening a new Macy's account. Extra savings applied to reduced prices. Discount valid 8/29/15 only.