Calvin Marsh, the great baritone with the Metropolitan Opera!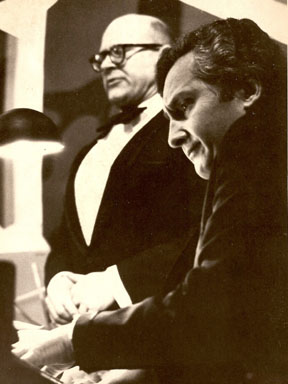 Calvin Marsh (standing) & Jeremiah Ginsberg (at the piano)
(This photo was taken during a concert on New Year's Eve, December 31, 1978, in Stony Brook, NY.)
Historic 1979 Recordings of Calvin Marsh Singing The Songs of Jeremiah Ginsberg!
Calvin Marsh enjoyed international acclaim from 1954-1966 as one of the Metropolitan Opera's leading artists. The New York Times described his Germont in Verdi's "La Traviata" as "Eloquent! The bravos were loud and sustained!" Jerome Hines, world-famous Met basso, declares Marsh's baritone "one of the most beautiful to be heard on any stage in the world." Calvin retired to Dallas, TX, where he lived to the age of 91. He passed away on Monday, June 18, 2012. Calvin Marsh, one of the greatest baritones ever! Deeply loved, highly honored and respected! Born February 11, 1921, died June 18, 2012.
Volume 1 is now available on CD Baby! Buy individual tracks or buy the entire album. Gorgeous praise and worship songs performed by the great Calvin Marsh of the Metropolitan Opera!
Volume I:
1) I Will Set Up One Shepherd Over Them (Ezek. 34:23-24, 30-31)
2) O God, Thou Art My God (Psalm 63:1-3)
3) In The Last Days (Isaiah 2:2-5) Click to hear music clip! (InTheLastDaysCalvin.mp3)
4) As A Faithless Wife Leaves Her Husband (Jer. 3:11-14, 20)
5) If I Have No Love (1 Cor. 13)
6) Give Ear To My Words, O Lord (Psalm 5:1-3, 11-12)
7) The Ark of The Covenant of The Lord (Jer. 3:15-18)
8) O Jerusalem, Jerusalem (Matt. 23:37-39)
9) Who Shall Tell My Lord? (A Dead Sea Scrolls Psalm)
10) A New Covenant (Jer. 31:31-34)
11) What Is His Son's Name? (Prov. 30:4)
12) Yeshua Messiah
13) Hear, O Israel (Deut. 6:4-9)
14) In The Beginning Was The Word (John 1:1-10)
Volume II:
1) Praise Ye The Lord (Psalm 113)
2) O Virgin of Israel (Jeremiah 31:3)
3) A Prophet Hath Been Among Them (Ezekiel 33:32-22)
4) I Will Go And Return To My Place (Hosea 5:15-6:3)
5) Don't Walk In The Way of This People (Isaiah 8:11-15)
6) The Rock That Begot Thee (Deuteronomy 32:18, 20-21)
7) A Kingdom of Priests And A Holy Nation (Exodus 19:5)
8) Hear My Prayer, O Lord (Psalm 39:12-13)
9) Come To This Mountain
10) Thou Wilt Keep Him In Perfect Peace (Isaiah 26:3-4, 8-9)
11) Dust Shall Be The Serpent's Meat (Isaiah 65:25, 17)
12) I Shall Not Be Greatly Moved (Psalm 62)
13) I Will Set My Sanctuary In The Midst of Them (Ezekiel 37:26-28
14) Ye Be Israel (Zechariah 8:23)
Music & Lyrics by Jeremiah Ginsberg
Vocals by Calvin Marsh
Additional Vocals by Jeremiah Ginsberg
Piano: Jeremiah Ginsberg
Copyright 1978-1979 & 2007, 2015 Jeremiah Ginsberg